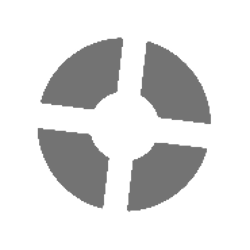 Flying into Australia on direct orders from the boss was no small task for this lowly scout, one of hundreds of millions, on his way to fame. He was told to meet up with allies and acquire some lucrative australium. Australium not only is worth millions on the black market but it's aura raises your intelligence. Such a power with enlightened scientists at the helm would be catastrophic to the other team, likely ending the long feud between the two brothers, Redmond and Blutarch Mann.
When he arrives a normal match is underway, but the Scout's team seems severely undermanned. Luckily, the Australium-boosted Engi has a plan. They will brainwash the opposition, and then muddy everyone's clothes until they are but a dirty brown, and do the same for themselves. Then they will use the intelligence provided by the australium to convince the blue team and other non-reds to kill their own.
There was also two more needs: the cart, a bomb set to explode the entire red base and surely the blue team would steal the Australium in the midst of all the chaos; also, Redmond and Blutarch's younger third brother, Gray, was making an attempt at the australium, seemingly already being altered by it's intelligence-boosting effects. What could he be up to?
What will happen next? Will the Red team use the australium to completely destroy the blue team at a standstill? Or will the cart be pushed up to the end of the map? Will the announcer ever find true happiness? Will Scout get Ms. Pauling? Will Shortcut find a girlfriend? Find out, in
A Teufort Storye - TF2 Mafia
.
Rules:
This'll teach em!
* Do not quote your rolecard or reference flavor from it, under risk of modkilling.
Mechanics:
Closed Rolelist.
20 player game.
Standard times, meaning Day 1 is 24 hours, Nights are 48 hours, and subsequent days are 120 hours.
Non-Bastard. Rolecards will not lie to you. All abilities are self-aware.
Claims will

NEVER

completely confirm you as one alignment or another. Most abilities are divorced from alignment, meaning there could be mafia versions of usual town roles and vice versa.
Flavor will not be used to determine alignment.
There will be no Neutral Benigns, or NB-variants.
Role List:
Spoiler:
You wish.
Player List:
leyva45
ryanyb
Anonymous0726 PolyesterHomes
KingOfEvil
Santa07
TrueGent
Eliah1102
Watt2015
VonAntarctic
Kmenx
IAmAMunchlax
Silmarils
Moleland
EvilDeanius0
taylork2
SamuelJackson1972
ItsmeCreature
cmitc1 EldritchSupremacy
Xanet734
becauseimbatman
Graveyard:
Eliah1102 - Lynched Day 2 -

Red

EldritchSupremacy - Killed Day 3 -

Blu

SamuelJackson1972 - Lynched Day 3 -

Blu

Moleland - Killed Night 3 -

Blu

Kmenx - Killed Night 3 -

Blu

IAmAMunchlax - Killed Night 3 -

Gray - Evil

Xanet734 - Lynched Day 4 -

Gray - Killing

VonAntarctic - Killed Night 4 -

Blu

PolyesterHomes - Lynched Day 5 -

Red

ItsmeCreature - Lynched Day 6 -

Blu

parkerparkour - Killed Day 6 -

Red

becauseimbatman - Lynched Day 7 -

Blu

taylork2 - Killed Day 7 -

Red
ISOs:
Spoiler:
leyva45
ryanyb
Anonymous0726
KingOfEvil
Santa07
TrueGent
Eliah1102
Watt2015
VonAntarctic
Kmenx
IAmAMunchlax
Silmarils
Moleland
EvilDeanius0
taylork2
SamuelJackson1972
ItsmeCreature
cmitc1
EldritchSupremacy
Xanet734
becauseimbatman